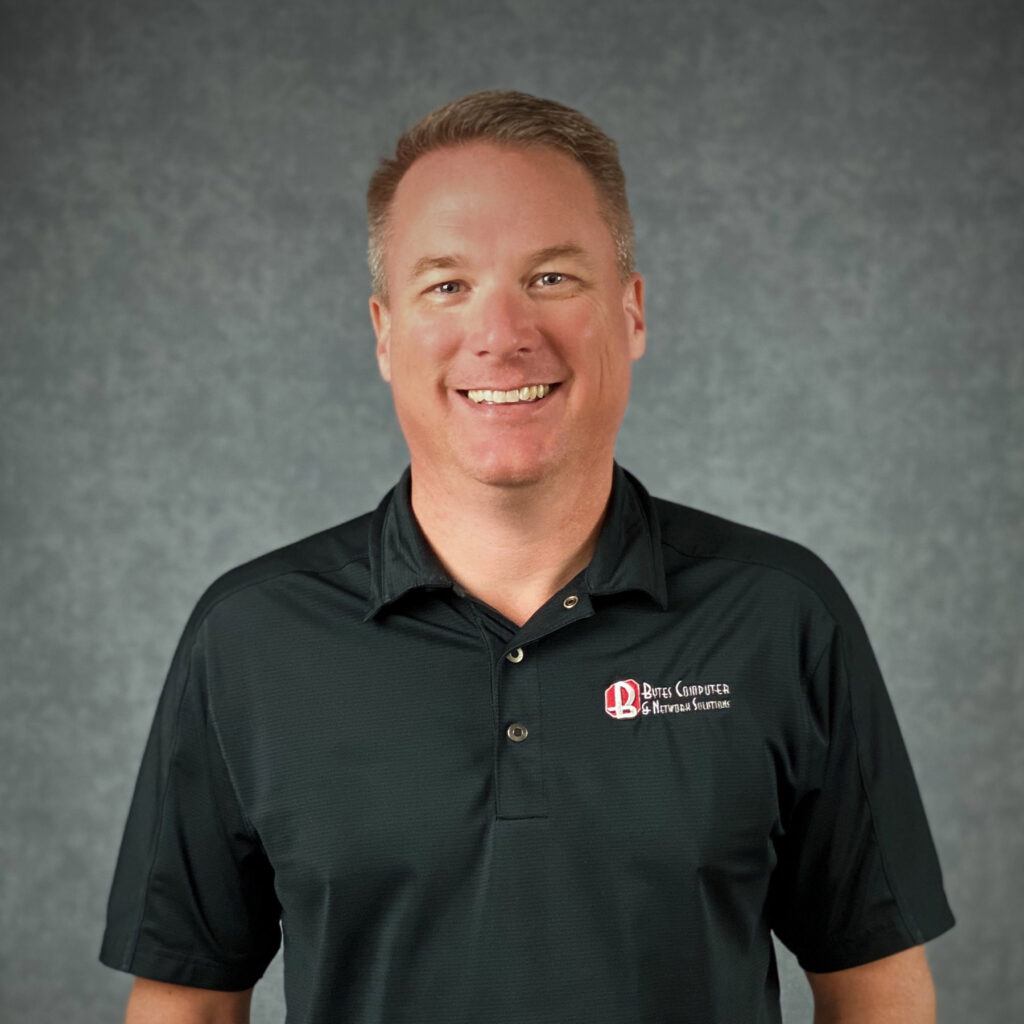 I am the Owner & Co-Founder of Bytes Computer & Network Solutions. In 2001, my father Darrell and I started Bytes Computer with humble beginnings. Twenty years later, we provide cutting edge, reliable IT services for small-medium businesses in the Midwest. Our mission is to provide world-class IT support for our partners by providing them with processes, tools, and expertise to make them more profitable and successful.
My beginnings were as an IT Director for FALCO-Intralinks. Afterward, I moved on to business ownership. I am a second-generation IT specialist. Having been an entrepreneur in the industry for nearly 20 years, I've experienced a lot of growth and many changes in technology.
I'm an avid golfer and fisherman, and a dedicated family man. I love the outdoors and spending time with my family and friends. I enjoy playing poker and having a whiskey to go along. Also, being a pilot, I thoroughly enjoy the time I get to spend in the air.
I pride myself on the ability to stay current and on the cutting edge of the industry, always educating myself and my employees on the newest technology available. Gaining new partners and getting to build those new relationships is what inspires me to keep doing what we do. I am so proud of every one of our employees. Their everyday work ethic and demeanor has proven that they are as committed as I am to staying current and ensuring our partners' needs are met.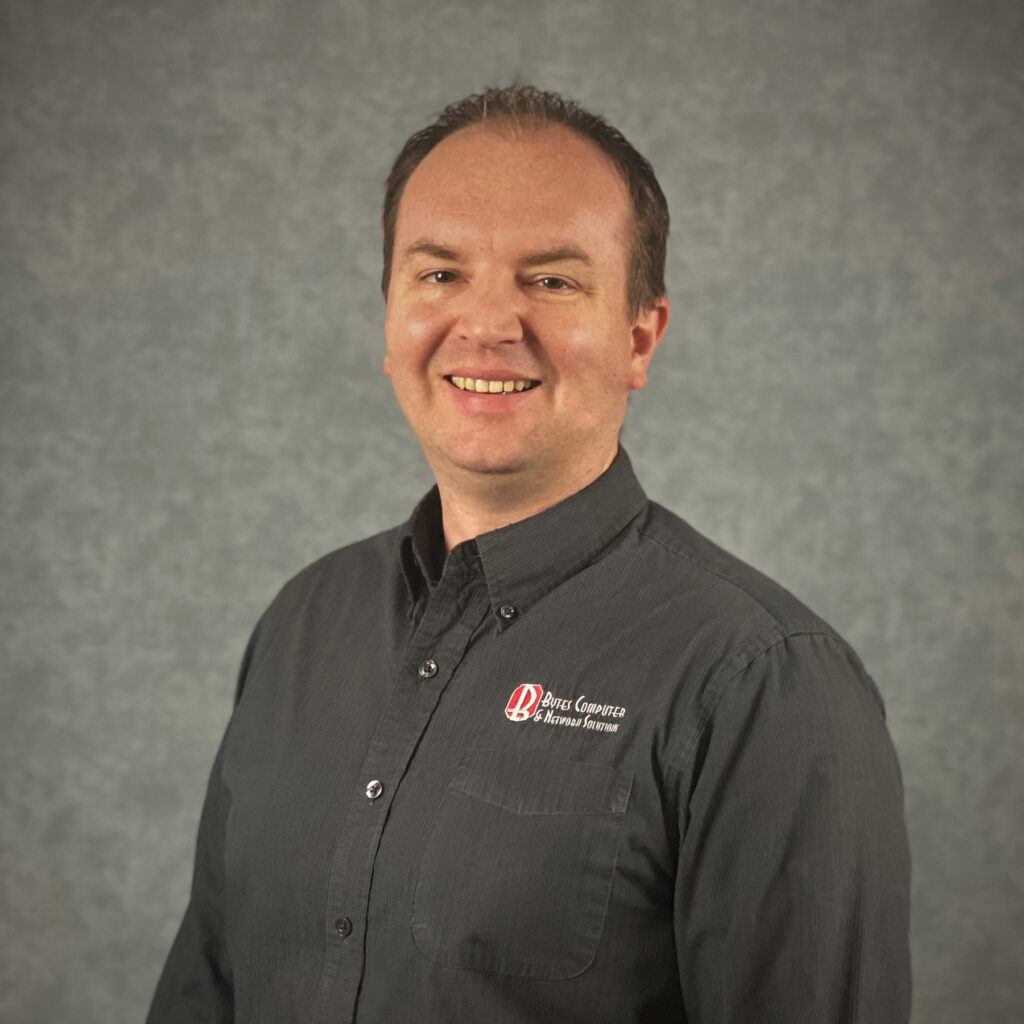 My primary duties are managing research, development, and deployment of solutions for the technological needs of our partners and Bytes. Much of that time is spent researching the tools we decide to implement to ensure they are the right fit for the task they are meant to achieve. Handling our company's internal security and technology budget also falls under the scope of my role. I do my best to help each of our team members at Bytes grow in their technical capacity and am proud of the progress our team members have made over their years here.

I am an IT Professional with over 25 years' experience ranging from supporting traditional desktops to the design, implementation, and maintenance of networks, servers, storage, virtualization, and cloud services.
Previous to Bytes, I served as a System Administrator for several locations, including Regional West Health Services.

I enjoy taking the pain out of technology, making it work for people and businesses. The evolution of technology keeps me interested, and I thoroughly enjoy learning new things and playing with new tech. I am also a firm believer in documentation, processes, and proper training.
Even though I love technology, I treasure the time I spend with my lovely wife backpacking and hiking the outdoors, completed unplugged.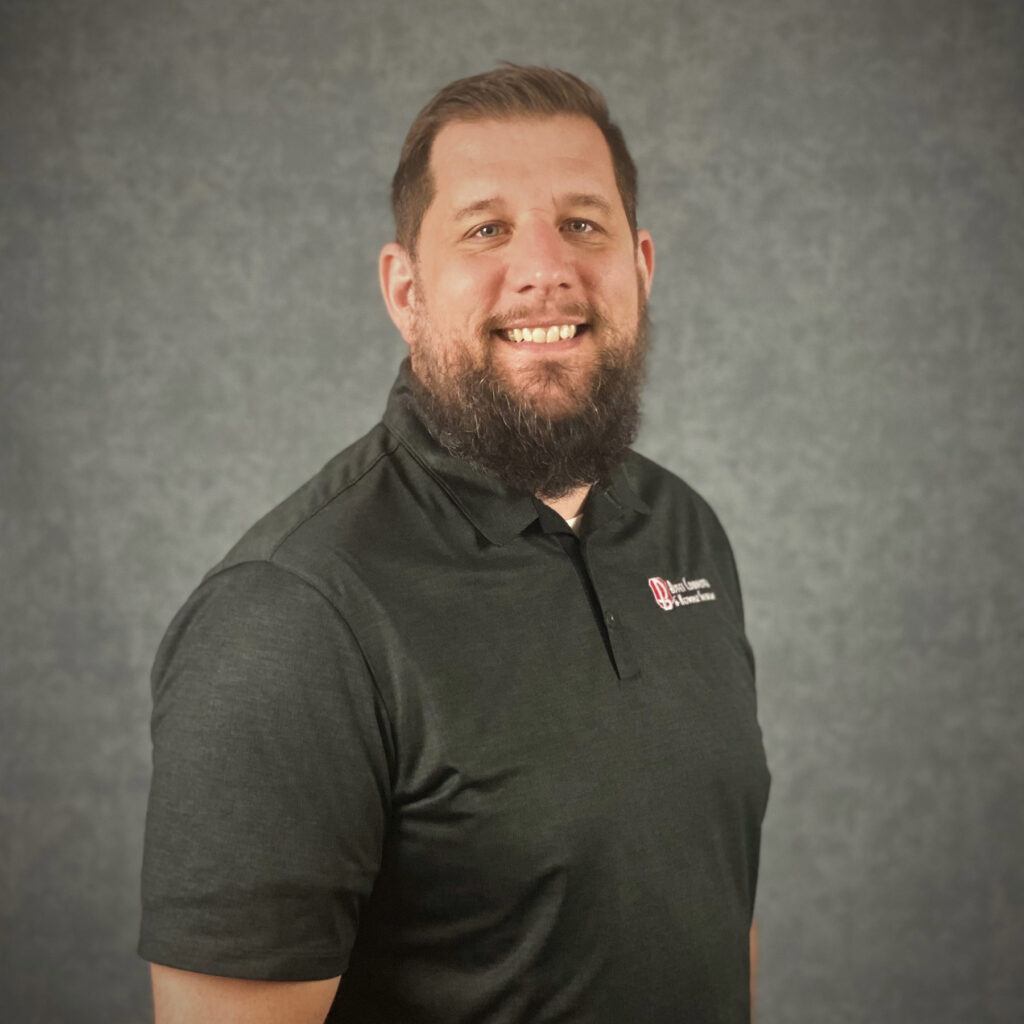 I am tasked with overseeing the day-to-day administrative and operational functions here at Bytes. I also report directly to our President and ensure that our operations are fitting the company's overall vision. I serve to empower my team, working with them to provide the business with the structure required to be a well-oiled machine.
I am an experienced leader with over 20 years in the IT industry. My background in IT is as diverse as technology itself. I have answered phone calls for a Service Desk, maintained desktops, phone systems, servers, and have led teams as small as five to grow as large as 50.
Outside of the office, I enjoy spending time with my amazing wife and our two children. We enjoy traveling and watching movies together in our home theatre we designed and built.
My passion is to build partner relationships and enable organizations to provide the best service to their customers while ensuring technology is unitized and viewed as an asset. Striving for the highest quality of partner satisfaction is vital to me, and I hold my teams accountable to meet that standard.
I don't often interface with our partners, but I make myself available to assist them with billing questions. I handle all accounting for the business and provide human resources administration for our Staff. I have an open-door policy and welcome any of our team to have conversations with me.

I have been with Bytes since 2009 and am a native of the Scottsbluff area. I attended Scottsbluff High School and went on to college at EWC. I graduated with an AAS degree and a cosmetology license in 1999.

I enjoy the company of my family, friends, and pets. I have many hobbies that include golf, camping, fishing. Most of all, I enjoy cheering on my kids in the many sports and activities they are involved in.

My goal is to ensure that your support requests are handled promptly and assigned to the right Technician. I work closely with the Service Team to help them with escalations, scheduling, and partner communication. I feel I have a unique perspective as a former client of Bytes. I understand what it is like to need support, and I want to ensure the best customer experience possible.

I am proud to have joined the Bytes family in 2017 and continue to be motivated by my desire to ensure our clients get the support they need. I thoroughly enjoy building relationships with our clients. I primarily speak with our partners over the phone, but I get to match a face with a voice on rare occasions. I have been impressed by the hard work, dedication, and kindness I have witnessed from our partners and look forward to continuing to help and watch them succeed.

I am a proud mother to an amazing young lady who continues to be my driving force in life. I am happiest when surrounded by my amazing family and friends. I can often be found in the kitchen trying a new concoction or curled up with a good book and a hot beverage.

I work in the Central Services Department, handling our internal systems management and solutions development. I maintain our tools on the back-end to provide our partners with the services we promise. I also continue to work on documenting processes for our internal tools and implementing automation to make us even more efficient.

I have a Bachelor's of Science from the University of Nebraska-Lincoln majoring in Computer Science. This was when I decided to get into technology with programming as my primary interest. I also have my MCSA in Windows Server 2016.

My leisure time revolves around running a sports analytics website and playing either golf or video games. My statistics website started as a fun side project based on several Wikipedia articles, I read about various rating algorithms. That became an ongoing five-year project.

Learning and working with new technologies and systems is the best part of my job. Finding something new and implementing that to solve problems encountered either internally or externally. We're always trying to implement systems that will limit our partners' issues and allow our techs to be more efficient while resolving any issues.

I have over 20 years of leadership and management experience which has shaped the way I relate to our partners. I truly enjoy getting to know them, understanding their business, and making sure their needs are being met. Developing and fostering a productive and successful relationship with our partners is my goal.

I have 25 years of experience working in the utility outsourcing industry. I was fortunate to work with several clients across the country developing best practices for their Billing and Credit/Collections processes. In addition to working closely with our clients, I also had the privilege of leading and managing a local team of 15-50 employees.

In my spare time, I enjoy spending time traveling with my wonderful husband and our two children, working in my yard, and reading. I have a passion for decorating and love working on DIY projects around our home. I love a good laugh, hot coffee, and spending time with the special people in life.

I handle sales, marketing, and brand management for Bytes. I love the challenge of developing sales and marketing strategies and tracking analytics to ensure my team stays on track. My goal is to ensure that my team has what they need to succeed and current and potential partners receive the experience they should expect from Bytes.

I have been working in IT for 12+ years now. All of my time in IT has been spent here at Bytes. My IT interest started when I began building computers at age 13 and had a deep interest in technology. I have always been a problem solver and had a very ambitious hunger to learn and progress. I have had my hands in nearly all roles here at Bytes and moved through several positions. I take pride in progression and gaining knowledge in each part of the business. I have taken several training courses required for each position. Comptia A+, CJIS Security Training, Kaseya Administrator, and Dell Training, to name a few.

In my personal life, I enjoy spending time with my son, hunting, fishing, hiking, and am an avid gamer. I've always had a sense of humor and love to talk and joke around with people.
My driving force at Bytes is the partner relationships that we build. Our partners are the heroes, and watching them succeed is what motivates me to continue. I have gained many great relationships with our partners. It is easy to feel accomplished when you see what they can achieve with technology that works.

Favorite Quote – "I used to be indecisive, but now I'm not quite sure." – Tommy Cooper

My role is to support higher level and complicated support requests. I am the primary escalation point for our service team. If an issue needs a more in-depth look or team members need training on a partner solution, I'm available to assist. Small-Medium business networks, servers, storage, and virtualization are my expertise. I am a capable problem solver who can work from the ground up to learn an environment or fix an issue.

I started working in IT doing desktop support for home consumers and have since grown my knowledge-base over the last 11+ years steadily. I enjoy riding my motorcycle, gaming, and streaming the games I play on Twitch in my free time.

I put in the time and make sure the job is handled 100%, and that extra mile is crossed. Guaranteeing the job is done correctly, and the proper measures are taken to ensure we can address future issues efficiently are what motivates me. I want to provide the best possible partner support experience.

My job entails designing and building environments to meet the needs of our partners as best as possible. A few of the things I handle are new server deployments, network revamps, and cloud migrations. I also work closely with our sales team to help them build solutions for our partners. With the information they gather after speaking with potential and current partners, I help them develop the right solution. I am required to keep up with technology infrastructure to ensure we use the right tools and prevailing technology.

I have been working in IT professionally since 2010 and started with small projects as early as 2006. I began at Bytes in 2013 as a Home Service Technician. I have since expanded my skill-set and knowledge base to grow with the company and our partners. Certifications I have acquired are CompTIA's A+, Network+, and Cisco's CCENT.

In my personal life, most things revolve around my family. I enjoy spending time with my wife and son. My son was born in the Summer of 2018 and continues to keep us on our toes. I also am a gamer, and I read avidly on nearly any subject, fiction or nonfiction. My other great passion is cars. I usually have at least one project and often tinker on my vehicles. I love reading about cars that I want to own, both new and old.

I will continue to gain knowledge to help keep Bytes and our partners at the forefront of technology. I firmly believe that the role of technology is to make our lives easier and more efficient. I want to facilitate that for each of our partners, allowing them to continue growing and thriving.

Favorite quote – "Speed has never killed anyone. Suddenly becoming stationary, that's what gets you." Jeremy Clarkson

My responsibilities are to assist with partner support requests. I handle support tickets over the phone and remotely, but also at the partner site. I work as efficiently as possible to triage issues and provide our partners with timely support. I also work with my team in training or collaborating on new support incidents.

I have 6+ years of IT support experience. Four of those years were spent with Cabela's working in support. The rest have been spent here at Bytes. Before that, I worked at Verizon Wireless, also doing support.

Outside of work, I enjoy spending time with my son and daughter. I also love to play video games, build new gaming computers, and keep up with new games and industry news. Virtual reality is also something I enjoy doing.

Providing our partners with best-in-class customer service is what I strive to achieve. I pride myself on having the ability to keep my head down and work efficiently to reach my goals. I want our partners to receive the best support possible and always be satisfied with the results.

I have been in the Panhandle's workforce as an IT professional since 1997. Supporting the IT infrastructure for Scotts Bluff County and other Government employees throughout the panhandle region is my role at Bytes. My in-depth knowledge of the people and Government network allows me to provide the best support possible.

I have earned a Master of Science in Cybersecurity and Assurance from Western Governors University. I have also passed the EC-Council CND and CEH certification exams. Before that, I earned a Bachelor of Science in Networking and Security from the University of Maryland Global Campus.

I am also a Veteran of the United States Army and the Nebraska National Guard, where I proudly served my nation, state, and the local community. When not at work, I enjoy spending time with family and friends. I also like to spend time in Nebraska's great outdoors, especially fishing. Technology, of course, is a hobby as well as my job.

I was given an Apple II E computer by my parents when I was in high school. It launched my interest in computers, which developed into an obsession. Understanding, teaching, and supporting technology is my driving force. I am always looking to improve and grow my knowledge further.

Working to support our internal tools on the Central Services Team is my fundamental role. We use several different tools to provide our partners with support, security, and management for their networks, so there is plenty to be done. Digging down more in-depth, I monitor our partner backups, ensuring they are current and functioning. I also ensure our security and management tools are deployed to our partners' devices. My next undertaking will be to maintain our monitoring tools to ensure we get clear, actionable information from the devices we manage.

I am newer to the technology field, with Bytes as my first IT job. I'm eager to continue learning, and I look forward to learning new things for many years to come. I have obtained A+ Certification, and I am attending school at Bellevue University to get my Bachelor's Degree in IT to compliment the Associates that I received at WNCC.

I spend my personal time either working on small projects that I set for myself or playing video games & other media. I am inspired to see our team members & partners working hard. Their momentum and the opportunity to learn something new every day keep me motivated to provide an excellent experience for our partners.

I assist our partners with support and triage tickets. Whether I work remotely or on the client site, resolving issues efficiently and on time is my goal. I also collaborate with my team, working together to provide partners with the support they deserve.

I have been in IT for over 15 years. I started as a Desktop Service Team Manager at Cabela's. I was later promoted to a Managed Print Administrator, managing over 3500 network printers and users.

Cabela's was facing substantial budget cuts across the company. We were able to eliminate all printing waste to retail locations, distribution centers, and corporate offices.

In my off time, I enjoy gaming, grilling, and spending time with my wife. I have been married for 15 years and enjoy the quieter things in life. I also enjoy learning about new technologies and learning about new companies on the stock market.

Seeing the company grow and growing my knowledge inspires me to keep moving forward. I am motivated by assisting our partners, helping them feel comfortable, and ensuring they are 100% satisfied. I have always had a natural talent for being street-smart and understanding tech. I bring these skills to the table when conducting my daily duties.

Favorite Quote - "Some are born great, some achieve greatness, and some have greatness thrust upon them." - William Shakespeare